Thanks to all the Wonderful WebMasters that have Honored us with their Awards.

1999


1999

Congratulations!!!! Your site has qualified for the
WGB Web Creations Excellence award.
You have a very nice site, good design, and presented
well, and easy to navigate. I enjoyed my visit to your
site! The projects they are doing are great!
Wendy Beck


1999

Dear Mr Lewis,

Thank you for telling me about your class's site! I did visit your site and found it to be EXCELLENT! I was very much impressed not only by the site but by the amount of material you cover in your classes. I bookmarked your site so I can get ideas for homeschool projects for my 10th grade son. Congratulations on an outstanding site!!

Best Wishes,
Kelly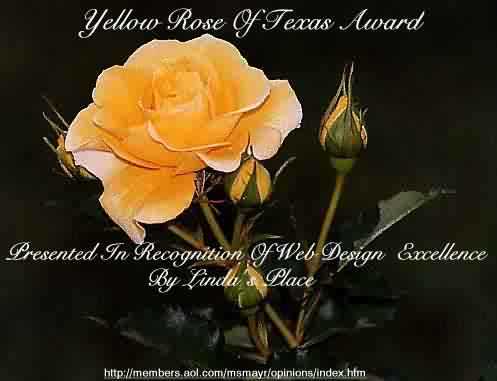 Dear Richard,
You classrooms site is very nice. I am pleased to bestow the "Yellow Rose Of Texas Award" from Linda's Place on this site!

Congrats!
Linda M