Thanks to all the Wonderful WebMasters that have Honored us with their Awards.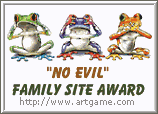 ~To Thy Friends Be True~
See No Evil, for Kindness is Blind
Hear No Evil, Listen With Your Heart
Speak No Evil, for Silence is Golden

Mr. Lewis,
I have been using your web site as a source of information for the past couple of years. It is wonderful. I really appreciate all of your hard work and the sharing of ideas. I am a teacher in Latta, SC. I am origionally from Vonore, Tennessee. I graduated from Tenn Tech University in Cookeville. I have done Bridges, Egg Drop, and the Roller Coaster Project this year. They have really been a learning experience. I am planning on trying the catapult on my honors class next semester.
thanks again for all of the great ideas.

Melissa Kirkland-Cook


Hi,

We would like to congratulate you on winning one of our awards! We reviewed your site and found it very worthy of winning this award!

Congratulations again!

Proud Grandmother in Arkansas thanks you for putting this on the web so that we could see it here. As a fellow teacher, I also want to thank you for doing such a good job teaching my grandson. We think he is pretty special and deserving of the very best instruction.
Betsy Meador

Mr.Lewis

After careful review of your website, my judges have awarded you The Seal Of Approval Learning Apple Award.
You have done an Excellent job!
Your website will be added to our Winners Circle with a link for all to visit!
Again, Congrats on a job well done! Thank-You for making the World Wide Web a better place for everyone. and Thank-You for a great website!

Tony Bucaro
Webmaster/Owner
The Seal Of Approval Awards Program
http://www.geocities.com/sealawards/
(P.S.)
I'm from Tennessee also! =)


Dear Mr. Lewis,
Your class Web site has exceeded our expectations in providing outstanding and innovative educational content, as well as superior design layout. We are delighted to present you our Four-Star Award and extend our appreciation for your efforts and dedication to the educational community.
Best wishes to you and your classes in the new year. We wish you success on finding local sponsors. Keep up the terrific things you do.
Regards,
The ITC Award Selection Committee
award@twoteach.com