Thanks to all the Wonderful WebMasters that have Honored us with their Awards.

1999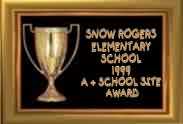 We at Snow Rogers Elementary School feel that the internet is an excellent resource for children, teachers,educators, and parents. To provide recognition for school sites that strive to provide these resources we want to show our appreciation by giving them an award. We hope you will display this award on your site so everyone visiting will know that Snow Rogers thinks your site is GREAT!
Thank you for your site,
Snow Rogers Elementary School
Again, Thank You For Your Site!

1999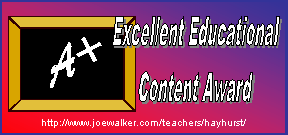 Richard,
That is an excellent page!!! I was dazzled by the 3-D molecule drawings. I will give you the content award, but I think you deserve the Diamond award. You may display either award you want. Please email me back when you have the award on your site and I will place a link to your page on my winners page of the award you decide upon.
Congratulations again,
Pat Hayhurst
Mr. Pat Hayhurst
Joe Walker Middle School


1999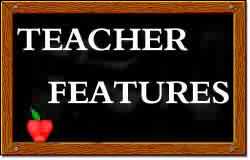 Featured Site of the Month for December 1999
Mr. Lewis Classroom is a site to behold. What I love most about this site is the way the students work is displayed. There are many great adventures and projects going on in Mr. Lewis' classroom and you can see them just about everywhere you click. Biology projects, Physics projects, Class work, you name it.
Thanks,
Kristan Williams
Author of
Teacher Features: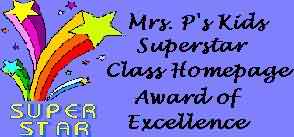 Mr. Lewis,
WOW! What a fantastic site!
Congratulations! Your site has been chosen to receive "Mrs. P's Kids Superstar Award for Class Homepages"!
We were very impressed with your site, and we are honored to award your hard work and your dedication to the field of education. We thank you for contributing to the online educational community!
Again, Congratulations!
Mrs. P's Kids


Congratulations! Your web-site has been reviewed and
chosen to bear the 1999-2000 Golden Web Award.
All web sites are voted on by the Association members.
All I.A.W.M.D. decisions are final.
The International Association of
Web Masters & Designers

1999

We did take a tour of your web site and feel that your site meets the criteria of our Web Author's Choice Award...Congratulations! Your site in is very well thought out, informative and very navigable. A definite "Bookmark" on our system!
~ Deanna Saterstad ~

1999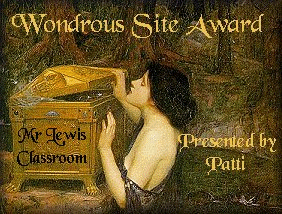 Dear Richard,
You have a great website! I would be honored if you would accept my wondrous site award!
Thank you and have a great Christmas!
Patti