Thanks to all the Wonderful WebMasters that have Honored us with their Awards.

1999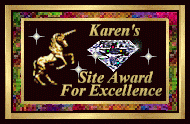 You have a wonderful site and I'd be very proud to have my award on your pages. Keep up the excellent work !

Karen


Thank you for submitting your wonderful site for our award.
I loved your site and I've sent you the award gif file to post on
your site :o)
David Eisenstein



Hi Richard,
Great site! I'd be happy to list you under Friends of C*E*A
Cathie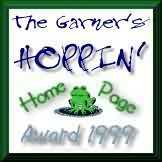 Your wonderful site has won our "Hoppin' Homepage Award"!!!!
and tell your kids they are lucky to have you for a teacher!

Best to you!
Scott & Shelbie Garner