Thanks to all the Wonderful WebMasters that have Honored us with their Awards.

1999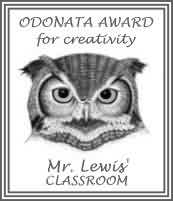 Dear Mr. Lewis and Students,

Your web-site is exceptionally fine, informative and entertaining, with
a nice touch of good humor. Here are two awards for you, the award for
creativity, and an award for excellence, which you
certainly deserve.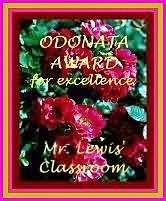 I have given your site a text-link on my DL links page, in the new
'special' section, and I shall quite definitely be a regular visitor to
your site.


1999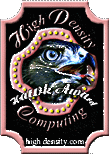 Hi,
Congratulations! I have visited your web site and found it to meet the criteria of our Hawk award. You now qualify for our Bald Eagle Award, which is given out to the best site of the week. After that, the Golden Eagle Award for the month's best site. So, good luck! There is no need to apply for these awards. Winners are chosen exclusively from sites that won the hawk award.

Sincerely,
Tom
High Density Computing


1999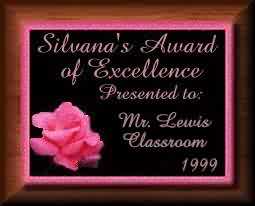 Mr. Lewis,
It is my pleasure to present you with my Award of Excellence, for a job well done..

Best Wishes,
Silvana


1999


1999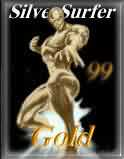 Dear Mr. Lewis,
We are proud to have the SilverSurfer on such a page as yours...It
not only reflects your taste...But also ours..We thank you...
Your plaque will be placed under *GOLD*
Congrats on a *GOLD*...You are one of the best....
ShadowRun