Thanks to all the Wonderful WebMasters that have Honored us with their Awards.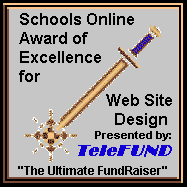 Congratulations!

Your web site has just received the TeleFUND Schools Online


Award of Excellence for Web Page Design.
You have done an outstanding job creating your web site.

Again, congratulations on a job well done!
Regards,
Jason Carlson, Chairman
CYBER SCANS TeleFUND
Awards Committee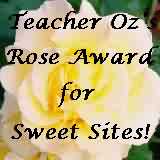 Congratulations on Receiving OZ's Rose Award For Sweet Sites !!!
Dear Richard,
You have a wonderful site and you most definitely deserve the Rose Award. I will be placing your page on my OTHER SUBJECTS page in the Science section.
Have a great day!
Tracey
Teacher Oz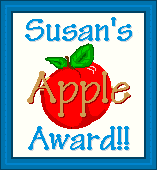 Richard,
I would love to give you my award. Your page is wonderful. I am attaching the gif. Have a great 4th!!
Susan


Hello Richard,
Visited your site and it is an excellent school site with super extras. Congratulations on earning A School Zone Award! Attached is an award jpg.


Best wishes,
Perenne
A School Zone

Dear Mr Lewis!
WOW! What a great site for biology and physics students and teachers! It is our delight to award your work with the Maxie A+ Award for Educational Excellence.
Best!
Lin, Don, and Maxie the Magnificent (of course!)

Congratulations! Your site has won the Wishing Well Web Page Excellence award! Not all sites are deemed worthy of this prestigious award. It is presented only to those who have created a site that contains enjoyable content, is pleasant to view and is "family safe". Nice job! You are to be commended for your all your hard work.

Wishing You Well
MaryLou White


Eric Nielsen
Nielsen Web Sites & Business Graphics

The "Dragon's Curiosity Award"